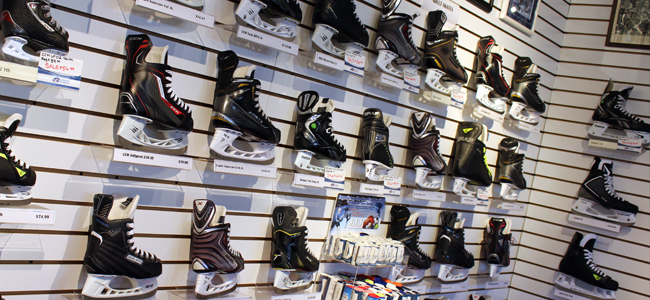 Trott's Sports Excellence is the number one destination throughout Collingwood, Wasaga Beach, the Blue Mountains and South Georgian Bay for hockey skates. Our major advantage is our ability to take the time to custom fit your new pair of skates to meet your specific needs. We carry a full line of skates in sizes Youth 6 – 13, Junior 1 – 5 1/2, and Adult 6 – 13.
Come in to see hockey skates from today's leading suppliers including BAUER, CCM, REEBOK and GRAF.
We take the time to talk to you about your hockey playing ability, skating style and brand preferences. We custom fit your skates so you will be comfortable, confident and ready to go when you hit the ice.
People count on us for custom skate sharpening. Again, we make sure your skates are sharpened to meet your skating style and hockey skills. Experience counts, and you can count on us at Trott's Sports Excellence for superior service and attention to detail.